Lisbon tops global ranking of hybrid workplaces for executives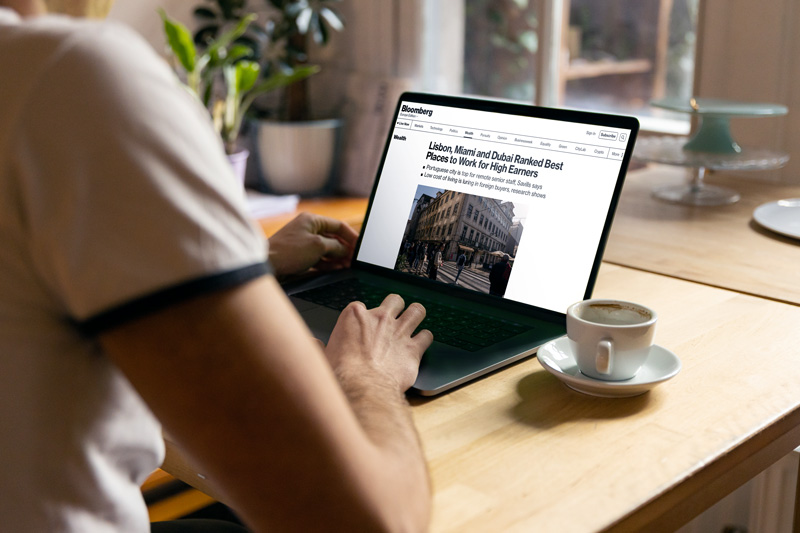 Since the start of the pandemic, telecommuting is gaining momentum around the world. AirBnB is the first company to allow its employees to 100% work from home! We also notice that many large banks now allow two days of telecommuting per week. This new way of organizing one's life is spreading rapidly among executives.
In a recent article, the Bloomberg website reported on the multiplication of this phenomenon among executives and managers. We can see that these "remote executives" have very strong location preferences, with Lisbon coming out on top ahead of Miami. The sunny climate and low cost of living in the Portuguese capital have led to an influx of residents who can now work from anywhere.  Lisbon offers many advantages such as a fast internet connection, a high quality of life, an efficient air hub, a high level of security on a daily basis, and attractive real estate prices compared to the major capitals.
To take advantage of the exceptional popularity of Lisbon and its region, we invite you to discover our new project "Nooba" in Lisbon (Barreiro). An ambitious residential project offering iconic architecture in an exceptional environment on the banks of the Tagus River with a beautiful landscaped park. This first phase of the project offers 62 contemporary apartments, from 1 to 5 bedrooms, with long balconies and generous terraces. For more information about Nooba: nooba.pt
In addition, in a few weeks we will be finalizing the work on our superb "Vale Pereiro" project. A splendid condominium with thirteen luxurious and modern apartments in a magnificent setting of ceramic, glass and steel in the heart of the Portuguese capital (this project is eligible for Golden Visa). The project is located just a stone's throw from the famous Libertade Avenue, the most beautiful avenue in Lisbon. There are only a few T2 and T3 apartments left. This project won the "Best Residential Renovation/Redevelopment Project for Portugal" award at the European Property Awards (2019-2020). For more information about Vale Pereiro: valepereiro.pt
Our brokers are available to answer your questions:
Khourage Imobiliária
khourage.pt
(+351) 963 794 436
(+351) 21 596 06 53
Source : https://www.bloomberg.com/news/articles/2022-04-26/lisbon-tops-hybrid-working-ranks-for-globetrotting-executives?srnd=premium-europe